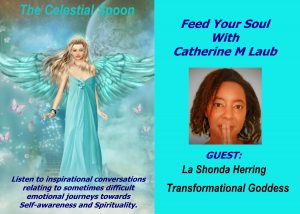 Join Catherine M Laub, Host of The Celestial Spoon as she speaks with  La Shonda Herring, the founder of The H Zone. Because of her 20+ years of experience working with women uncovering their true essence and them evolving into who they were designed to be, she is known as the transformational Goddess.
She attracts woman that are frustrated, feeling stuck and want more out of life. They want to connect with who they truly are, find their purpose and live an amazing life defined by them.
La Shonda loves when her clients have the Aha moment, they realize they are this amazing co-creator and they have sooo much power! Then the fun really begins with the work she does.
https://www.catherinemlaub.com/
Facebook: https://www.facebook.com/catherine.laub.54
LinkedIn:  https://www.linkedin.com/in/catherinemlaub
Facebook: The H Zone, www.facebook.com/herringzone
LinkedIn: La Shonda Herring
#CatherineLaub #TheCelestialSpoon #YourTurquoiseAngelGuide #MentalHealth #PsychicMedium #Inspiration #StressResolution  #LaShondaHerring #TheHZone
Podcast: Play in new window | Download
Subscribe: Android | Email | Google Podcasts | RSS | More