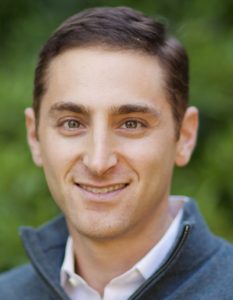 Join Catherine M Laub, Host of The Celestial Spoon as she interviews Mark Gober, an author whose worldview was turned upside down in late 2016 when he was exposed to world-changing science. After researching extensively, he wrote An End to Upside Down Thinking to introduce the general public to these cutting-edge ideas – all in an effort to encourage a much-needed global shift in scientific and existential thinking.
Mark has long sought answers to life's challenging questions. As an undergraduate at Princeton University, he was drawn to astrophysics because he wanted to understand the universe. But because due to commitments as a member of Princeton's Division I Tennis Team, he decided that astrophysics would be too demanding. So instead of studying the invisible forces that govern the universe, he studied the invisible forces that secretly drive human behavior, getting a degree in psychology, focusing on behavioral economics.
After college, he explored the universe through books for fun. But it wasn't until the summer of 2016 that he randomly stumbled across a series of podcasts that exposed him to some radical new ideas. Those ideas put into question the most basic assumptions about who and what we are as human beings. The more he researched, the more he realized that he needed to rethink everything that he thought he knew.
When he began relating to friends his research, they told him it changed the way they looked at life. Their lives started to improve. After he'd heard that multiple times, he realized it was time to share his research with a broader audience through his book and podcast so he could help more people.
When he isn't pursuing the world's biggest questions, Mark serves as a partner in Sherpa Technology Group, a firm that advises businesses on mergers & acquisitions and strategy. In recognition for Mark's singular work on understanding the nature of consciousness, Dr. Ervin Laszlo (2-time Nobel Peace Prize nominee) recently named him as a Director at The Laszlo Institute of New Paradigm Research., where Mark serves Director of Corporate Relations.
#CatherineLaub #TheCelestialSpoon #MentalHealth #PsychicMedium #Inspiration #MarkGober #AnEndtoUpsideDownThinking
https://www.facebook.com/markgoberauthor/  
https://www.linkedin.com/in/mark-gober-bb957220/
Podcast: Play in new window | Download
Subscribe: Android | Email | Google Podcasts | RSS | More